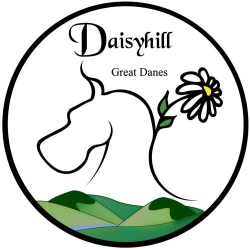 Daisyhill Great Danes

Daisyhill Great Danes is located in the wet, but beautiful, Pacific NW. I have owed Dane since 1996 and am active in conformation, rally obedience, agility, and Dane Outreach.

I am a member of the Great Dane Club of America (GDCA) and Willamette Valley Great Dane Club (WVGDC).

The year was 1994, I had graduated college a few years earlier and had a good job, so the next obvious step was fulfill my life's dream of having my own big dog. I grew up with Boxers, but they were just a little too hyper for my lifestyle. I had narrowed my choices down to the Great Dane or Mastiff. I attended dog shows from Eugene to Seattle, and everywhere in between. I was having a very difficult time making a decision until......I saw CH. Travis Lincoln and his person walking across the show grounds. I was in love! He was the most beautiful creature I had ever seen! The incredible story continues, but that's how my love affair with Danes began.

I am a firm believer that only the best of the breed should ever be bred. Dogs should obtain their AKC champion title (there are always exceptions) and have the appropriate health testing performed as dictated by the breed parent club. Health testing is not a guarantee that health problems won't arise, but it does improve the odds for a healthy life.




I apologize for the incomplete website. Dotster, my hosting service, corrupted my website and I am now forced to recreate it.